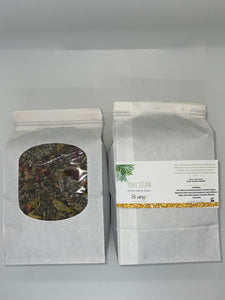 Yoni Steaming is an ancient, holistic womb healing modality. With simple ingredients like spring, or distilled water and a blend of herbs. You sit over the herbs and let the steam flow into your womb space. While Steaming you can relax, meditate, journal, pray, cry whatever helps you to release best.
Directions: Use daily or as needed on damp skin or on top of your favorite body lotion. Use after soaking in Peace & Sage Soothing Bath Soak. For extra strength apply thick layer to area and let sit
Storage: Keep in a cool area. Will melt in direct sunlight or hot area. If this happens mix well and place in refrigerator cool area. 
WARNING: 
DO NOT STEAM WHILE PREGNANT
DO NOT STEAM WHILE BLEEDING
WHEN STEAMING WITH IUD DO NOT EXCEED OVER 15 MINUTES
Full Ingredient List: 
Rose, Lavender, Nettle, Red Raspberry Leaf, Calendula, Mugwort, Sage 
1 Package = 4 about steams